Forbes Magazine speed-dialed our office the minute the verdict came down: San Diego's North Park neighborhood went hipster! And even though we totally knew that, duh, we booked a trip immediately lest it gentrify even more. At the risk of introducing sarcasm to the Internet, we feel that a certified hipster status is fleeting and North Park was straddling that precarious sweet spot between Section 8 housing and Room & Board sectionals.
We happily checked in to The Lafayette Hotel, a remodeled historic property in the heart of the neighborhood. The Lafayette is a hip boutique hotel that has style and charm the way only an older property can. It was built in the 1940s in a curious Colonial style by a car dealer named Larry Imig. You're going to want to see a picture of him: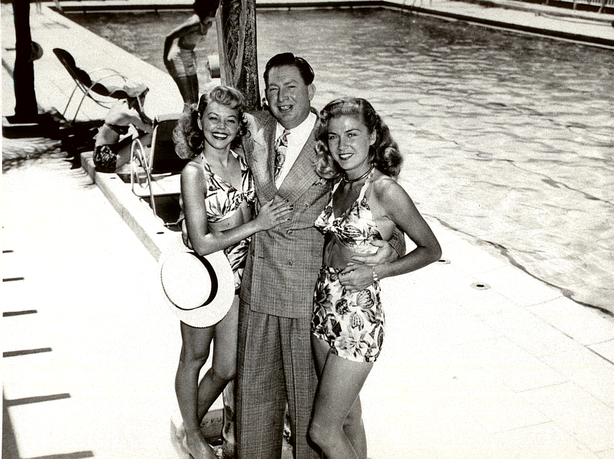 That's Larry basking in his, err, double-breasted poolside glory.
The Lafayette was born during the Golden Age of Hollywood and was frequented by the celebrities that now grace its lobby wall. It sat along sh-booming Highway 80, before falling into neglect after a nearby interstate was built, rerouting traffic away from the hotel. If that story sounds familiar, then you've probably already guessed that the forgotten boulevard and hotel were saved by a talking red race car and his lovable hillbilly tow-truck.
The Lafayette was conceived of as a sunny escape, and like similar hotels of that time, its focal point is a spectacular swimming pool. The Lafayette's pool was supposedly designed by Johnny "Tarzan" Weissmuller adding to the retro romance.
The pool is worth the price of admission alone. Literally. The Lafayette borrows a page from the beloved Ace Hotel in Palm Springs and offers a swim club (day-use of pool) for non-guests. We were initially concerned about a San Diegans Gone Wild scenario when we noticed two beefy bouncers flanked on either side of the pool. Thankfully, the only time they had to flex muscle was to open the gate for guests whose hands were preoccupied with drinks.
Rooms are humble and austere as reflected in the modest prices. Configuration and appeal vary widely. Our least favorite rooms, the Suze Suites, were bare-bones crash pads. We recommend the Poolside rooms with a patio or balcony for the full resort effect. You'll feel like Lucy and Ethel on vacation. For more privacy, choose the 1BD & 2BD bungalows towards the back of the property.
The hotel's restaurant, Imig's Kitchen & Bar, is totally fine. Food is more convenient than delicious, but cocktails are great with solid riffs on the classics. The beer list is unsurprisingly strong as that is a requisite in San Diego. There's a ton of hip restaurants and bars within fixie distance, so you'll never go wanting. We'll cover those in an upcoming post.
If the sun — or the suspenders on Imig's bartender — starts to wear on you, you'll find relief in the adjacent Red Fox Steakhouse and Piano Bar. This hold-over restaurant and lounge is a darkly-lit wonder. A sultry red neon sign (and cute little fox logo) lures you inside and speeds you back in time to 1969. Amber stained glass and red naugahyde booths provide the only color in this masculine den of steaks and chilled salads. The Manhattans are good and cheap. A piano bar encourages sing-a-longs late into the night. The only thing missing is Frank and Dino. And you!
Keep your dial tuned to Weekend del Sol for our favorite places to eat, drink and shop in North Park.